Nature and Nurture
The Nurture Cottage Family embraces the philosophy that love, laughter, and the 'sensory' experience will enhance the lives of the community who are welcomed into our little boutique.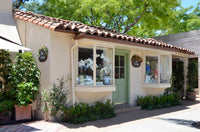 Nurture Foundation.
All profits from the Nurture Cottage go directly to the Nurture Foundation.
In 2021 The NurtureFoundation will support children's organizations that include;
Angels Foster Care
Teddy Bear Cancer Foundation
Girls Inc.
Storyteller Children's Center
The Youth Sailing Foundation
Hearts Therapeutic Equestrian Center.




Lifestyle
We are a lifestyle store specializing in quality merchandise for Children, Home, Garden, and Gift Giving.
Clothes, shoes, and accessories are colorful, comfortable, whimsical and created for kids with limitless energy and a need to play. Sizes range from newborn to size 10.
Location
Our Store
1213 Coast Village Road
Montecito, California
Temporary Covid-19 Hours
Mon - Sat, 10am - 6pm
Sunday, 11am - 5pm